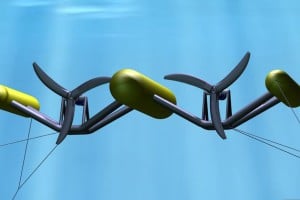 Orcades Marine Management Consultants is to provide marine operations and risk management support for Sustainable Marine Energy during the deployment of its PLAT-O tidal turbine platform.
The first prototype is being tested in tidal waters off the Isle of Wight, where London-based SME has a base, this year. The company aims to set others up further afield in 2015.
PLAT-O is a buoyant, taut-moored subsurface tidal energy platform that can be used to deploy tidal turbines into a tidal stream's sweet spot.
The prototype, which is being put through its paces in Yarmouth harbour, features a pair of 50kW turbines developed by German propulsion expert Schottel.
SME expects the device to cut the high installation and maintenance costs associated with deploying tidal generators offshore.
Image: the system currently features Schottel hardware (SME)