The world today is heavily focused on protecting the environment and developing new forms of green energy. Businesses and individuals alike are working toward alternatives to our current reliance on fossil fuels, with nations across the globe struggling to reach net-zero emissions through the development of existing technologies and the development of new renewables.
Vietnam has one of the most efficient energy systems in Southeast Asia and one of the most vibrant renewable energy sectors. Demand for energy is anticipated to grow at a rate of 8% each year through 2025, and to meet that demand, the government is working to develop sources of renewable energy.
Marine renewables are forms of energy that come from water. Waves and tides everywhere are sources of kinetic and potential energy. This energy can then power turbines to generate electricity. This type of technology is operated at sea and requires offshore grid and distributions systems. Other forms of renewable energy production include solar and wind power.
Orcades Marine has experience in each of these forms of energy which represent the future of energy production. While gas and coal are finite resources, wind will continue to blow, and waves will always seek the shore.
Offshore Wind Energy
Wind energy is produced via offshore wind farms. By locating them in bodies of water, these wind farms will produce energy more efficiently than those on land. Globally, wind power capacity reached 35.3 gigawatts at the end of 2020. Although the costs associated with offshore wind power have normally been higher than onshore, this is now changing.
The area of sea between Quy Nhon and Ho Chi Minh City is regarded as one of the areas with the most potential for offshore wind power production anywhere on Earth, with wind speeds averaging 7-11 metres per second, making this a perfect location for development.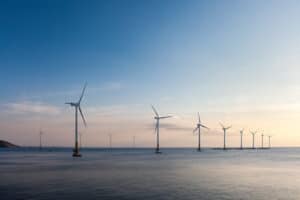 Wave Energy
This developing technology relies on the movement of water to create energy. Specifically, it harnesses the power of waves. This can be challenging technology, requiring engineering knowhow and multi-discipline marine experience to properly evaluate technical concepts that are a part of the project.
Tidal Energy
While wave energy draws upon the kinetic force of waves, tidal energy is reliant upon the change in sea level as it rises and falls in accordance with the pull of the sun and moon. More predictable than wave energy, it is an excellent option for development, using existing, proven technology.
At Orcades Marine, our experienced, professional team can integrate renewable resources in your projects, offering support every step of the way, beginning with feasibility and development, through construction, operations, and maintenance to end-of-life.
With the demand for electricity growing, marine renewable energy continues to grow and develop in response. We offer you the experience and understanding of these renewable energy sources to provide you with the solutions you need to make your project a success. 
Marine Renewable Energy in Ho Chi Minh City Consultation
For more information on marine renewable energy consultation, you can contact Orcades Marine UK team or our Orcades Marine Asia, located Singapore.